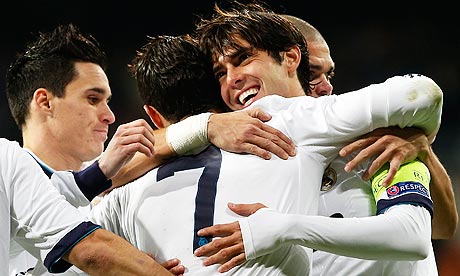 Real Madrid eased to victory in their final Champions League group match on Tuesday, beating Ajax 4-1 at the Santiago Bernabeu, and manager Jose Mourinho was impressed by what he saw from some of the young academy players who he fielded in the game.
Mourinho put his faith in players such as Nacho, Jose Rodriguez, Antonio Adan and Alvaro Morata as they were all sent out to show him how they would handle the Champions League experience and nobody disappointed the hard-to-please Portuguese coach.
But the more established players were the ones to make their Dutch opponents pay, with Cristiano Ronaldo opening the scoring early on with a simple finish, before Jose Maria Callejon notched an impressive brace and captain Kaka curled a wonderful effort into the back of the net from outside the area.
The victory was amazingly the sixth time Madrid have beaten Ajax in just three seasons, and Mourinho was satisfied with how his young players handled the pressure of the game.
"Nacho has played because Arbeloa is suspended and he is a player of the first team," said the Madrid manager.
"He is a kid with a strong personality and we knew he would have no problem. He had a fantastic mentality and committed no defensive errors.
"We like Jose a lot too, although he has not played a lot with the Castilla. He is only 17 years old but you could imagine he is 20 and he has the level to play at Real Madrid.
"Morata is also a first-team player but he has (Karim) Benzema and (Gonzalo) Higuain in front of him. Every minute he plays is good for him but one game doesn't change my thinking.
"Someone like Callejon is always in my mind because he always plays well and leaves everything on the field."
Although Real finished in second place in the group, Mourinho insists that will not matter too much when it comes to the opponent they will face in the round of 16.
"We have to respect everyone, but when you finish first you believe you deserve an easier rival," he said.
"We will face a first-placed team and it will be a difficult opponent but we will see in February.