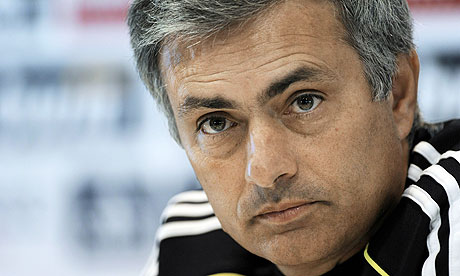 Real Madrid boss Jose Mourinho has played down talks of a rift between him and the directors at Real Madrid, insisting they get on well and and will only judge him at the end of the season.
Mourinho's men fell a surprising 11 points behind usual title rivals Barcelona after they went down 1-0 to Real Betis on Saturday and Lionel Messi guided Tito Vilanova's Barca side to a 4-0 victory at Levante on Sunday.
The loss not only leaves a huge gap between Real and Barcelona, it also leaves Cristiano Ronaldo and his struggling teammates eight points behind local city rivals Atletico Madrid, who currently occupy second position in La Liga after a tremendous start to the campaign and their 4-0 destruction of Sevilla on Sunday.
The loss to Betis created a new speculation storm over Mourinho's future at the helm of last year's champions, but the Portuguese manager insists nothing has changed despite the loss and lack of form.
"I feel good, I am in perfect health and working as I have done for many years. I do not understand the question about my relationship with the club, it is the same as ever," Mourinho said.
"My relationship with the players is the same as always. It naturally depends on results. When you win, naturally things are better than when you lose. But everything is normal," he continued.
"I am simply an employee of the club, like everyone else. I do my best. At the end of the season, we can make calm judgments.
"It is possible that at the end of the season the club are not happy with my work. I am here giving my all as always.
"The most important thing for me is that I continue to have a strong personal relationship with the president, just as I had with Abramovich and Moratti."
The former Porto, Chelsea and Inter Milan coach has only managed to muster two wins in his last five matches with Real in all competitions, leaving the club third in La Liga and in second place in Champions League Group D behind leaders Borussia Dortmund.