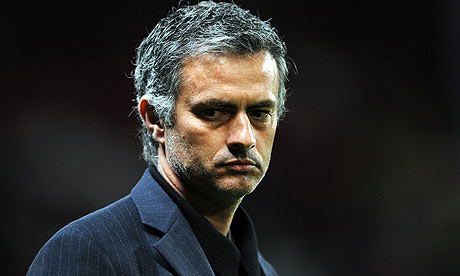 Real Madrid manager Jose Mourinho has admitted that his side deserved to lose to Celta Vigo in Wednesday night's Copa del Rey battle, but believes his players will have what it takes to overturn their opponents in the return fixture at Santiago Bernabeu.
In the Celta clash, Mario Bermejo put the hosts in the lead after 11 minutes before substitute Christian Bustos added a second with a little over 10 minutes remaining of the match, just two minutes after he entered the fray, leaving Madrid's hopes of progressing seemingly in tatters.
But the ever-reliable Cristiano Ronaldo added yet another goal to his Real Madrid tally when he found the back of the net with four minutes left on the clock, giving Jose Mourinho's side a lifeline ahead of the return leg in the capital.
Mourinho praised Madrid's opponents for their deserved victory in the first leg, but insists that there is still everything to play for.
"I liked how Celta played and I think that they deserved to win the match," said the Portuguese tactician.
"The result reflects what happened on the pitch, but perhaps they didn't do enough to merit scoring twice and neither did we to merit scoring once.
"They deserved to win the match, but I still think we are favourites to win the tie and I'd like to think that we will go through.
"There is no great drama, everything is still to be played for and we know they are a good team. I'd rather lose here than to do it in the league because we can do something about this," Mourinho continued.
Despite the defeat, Mourinho was pleased with the performance of one of his players in particular, Raphael Varane, who played on through injury after all three Madrid substitutions had been made.
"Varane was a champion because he was injured, he was injured and stayed on the field and did more than some players who were not injured.
"He has a fantastic mentality and did his job.
"He couldn't sprint and could not play as a defender and he did well."
However, the former Chelsea boss could not speak positively about all of his players and as clearly frustrated at the effort his side put in.
"There are players who disappointed me, but I will not speak about anyone directly," he said.
"I think that it would have been better if Morata was here, he is still a little bit green but he has ambition, wants to give his best and is entitled to make mistakes.
Mourinho was also keen to state that the responsibility for the loss should be shared between he and his players.
"I make the decisions and it is my responsibility.
"I think we saw the same match and you can criticise the coach and his decisions, but maybe it is not always only the coach who has to take responsibility. I take mine."