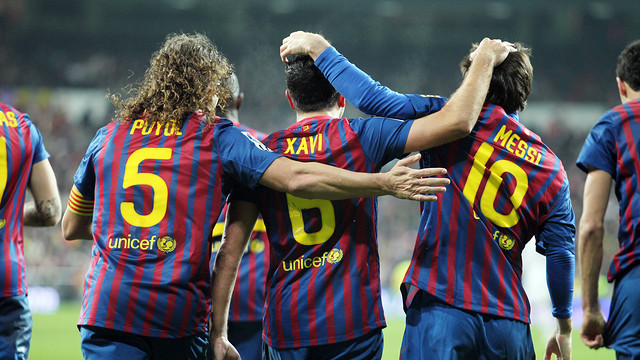 Barcelona star Lionel Messi has signed a new contract that will keep him at the La Liga giants until 2018, with Xavi and Carles Puyol also reaching agreements to extend their current contracts.
The World Player of the Year and recent record-breaker Messi was already under contract with Barca until 2016, but both he and the club have now proved their mutual loyalty and love for each other by extending the player's deal by another two years.
Jorge Messi, father of Lionel, recently claimed that his son won never leave the club, and this now looks almost guaranteed as the Argentine international will be 31 years of age by the time his new deal expires.
By the time Messi's contract finishes, the attacking wizard will have played 14 seasons at Camp Nou, which is a frightening thought for the defenders that are terrorised week-in week-out in La Liga.
In the 25-year-old's career to date he has already secured five La Liga winners' medals and has tasted Champions League glory on three separate occasions, and it's difficult to imagine the trophies stopping there with Messi staying loyal to his club for another five years at least.
Tito Vilanova will be receiving Christmas cards from many happy Barca fans this year after the extension of Messi's contract, and a few other presents have also been given to the fans in the form of news that club legends Xavi and Puyol have also signed deals keeping them with the club until 2016.
Because Xavi and Puyol are 32 and 34, respectively, the extension of their current deals all but confirms that they will remain at Barcelona for the remainder of their long and illustrious careers.
Xavi committing to Barca until 2016 means that his new contract will run out nearly 18 years after his debut at Camp Nou, and Puyol's career has been almost identical as he made his debut for the La Liga leaders just over a year later.