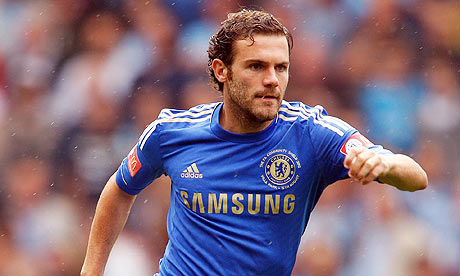 Juan Matter has burst onto the Premier League scene with a flurry of performances worthy of his place in Chelsea's league-leading starting line-up, and the Spanish playmaker has received rave reviews from English players, managers and fans alike for his sensational efforts so far. So why do some people in Spain not feel the same affection for the former La Liga player?
Unlike in England, where every Englishman with half a talent is hyped to be the next big thing, Spanish fans are believed to really only see potential in the players that are good enough to play for the top two teams, Real Madrid and Barcelona.
Juan Mata did have a brief spell with Real Madrid but only with their reserve team, never managing to breach the first team squad, despite the lethal left-footed player managing to score 10 goals in 39 games for Madrid's B team.
He then moved on to play for fellow La Liga club Valencia and enjoyed a similar goals-to-games ratio at his new club, notching 34 goals in 129 games, some of which were pivotal in Valencia's 2008 triumph in the Copa del Rey as he scored twice against the mighty Barcelona in the semi-finals and added another to guide his side to victory in the final against Getafe.
Even though Mata was voted Valencia's Best Young Player that season, the people of Spain still saw that achievement as being inferior to the players who were given the opportunity to pull on the jerseys of Real and Barca.
To hinder Mata's success and exposure to the Spanish national coach, Vicente del Bosque, further, he then departed Spain and touched down in London to test out his abilities at Chelsea.
Even though the Blues are the champions of Europe and Mata has been instrumental in their journey to gaining that title, along with their current status as the Premier League leaders, it seems that the consistent performer with have to be persistent to win over the man who has won the Champions League and the World Cup as a manager. I guess he's allowed to be picky, then.
You have to feel sorry for the 24-year-old, because his age his probably defined his career, or lack of it, in his national side. Had he been 10 years older or younger, he may well have made it into the Spanish starting line-up with ease.
But the current strength in depth in what can only be described as a near-perfect team formed from a crop of near-perfect Spanish players has somewhat inhibited the classy player's chances.
Maybe if Mata continues to progress at the speed he has done in his early career as a professional, it won't be long before Real Madrid or Barcelona come calling for his services and he'll finally get the recognition he deserves.