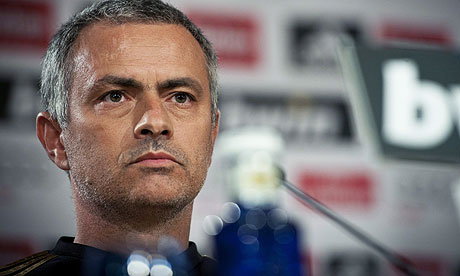 Real Madrid boss Jose Mourinho is at the heart of a speculation storm surrounding his future as a football manager, but the man who has tasted success at every club he has taken charge of is keeping his cards close to his chest about whether he will leave the La Liga giants in the coming months.
The former Porto, Chelsea and Inter Milan coach has won just about everything there is to win in football in his short managerial career, but Mourinho never stays at one club for more than a few years, so will he follow suit again and bring his time at the helm of Real to a close as we approach the business end of the season?
Well even if the world's media is going crazy over the 49-year-old's future, the man himself is as calm and collected as ever, and he is so good at not giving away any clues that he would be the king of partypoker.
Real Madrid forward Karim Benzema has urged his fellow Madrid teammates to give their backing to the Portuguese manager after reports have suggested he is set to leave the club after the poor run of form that sees them trailing La Liga rivals Barcelona by 11 points.
"Mourinho has given me many things, he is always with me and now the whole team has to be with him. For me, it's better to stay," said the French striker.
Los Blancos have at least progressed to the final 16 of the Champions League after they finished runners up to Borussia Dortmund in the 'group of death', and Benzema does not think it is too important that his side could not win Group D due to the fact that, to win the Champions League, you have to beat the best teams at some stage of the competition anyway.
"No problem being second in the group, the team is good, although there are many difficult teams to reach the final," Benzema explained.
"I do not know if Real Madrid are favourites, but we will continue to try to win the competition.
Mourinho is likely to want to stick around at the club to see if he can win the prestigious competition once again with yet another team, before he finally shows his cards and reveals whether he will stick or twist with Real Madrid.