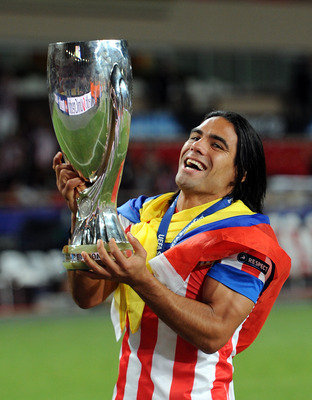 Radamel Falcao had been deflecting reports for weeks that he would sign with free spending French Ligue 1 team AS Monaco FC. It seems, however, that the money was just too good for the Colombian striker.
Falcao signed a five year €51million deal with the team this weekend, and completed a flurry of moves made by the heavy laden pockets of Monaco club owner, Dmitry Rybolovlev. Falcao took to Twitter to express his excitement. 'I want to share with you that I will be player of @ASMFC-MONACO next season. I'm eager to start this challenge! I count on you [sic] support!'
The player was much more emotional in a press conference held today at the Vicente Calderón, in which he took the mic several times but was unable to speak, due to being overcome by emotion. He would finally gather himself.
"Thanks to all those in the club, to all those that work for the institution and the team. And, above all, to all the Atlético fans for these two years," he said.
"These years at Atlético have been the best of my career. I have lived some moments that I will never forget. I´m very happy to have achieved with this team all the objectives that we have reached, and to have defended these colours in every game." Falcao leaves the team having scored 52 goals in two years with Atletico.