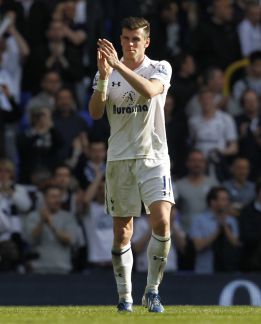 The English press reported today that Real Madrid is preparing a bid for Gareth Bale, a Florentino Perez target this summer, especially if Neymar eventually signs with FC Barcelona. According to 'Daily Star', the Madrid offer contains 50 million euros plus a player among the group of Pepe, Higuain, Di Maria and Marcelo. According to their information, Tottenham desires Higuain to bolster their front, so the Argentinian could be the key for Real Madrid to recruit the Welsh product.
The white club wants to take advantage of the fact that Spurs will not play in the Champions League next season and believes it is the right time to convince a player who wants to leave Tottenham without generating conflict and becoming rebellious as Luka Modric did last year.
But negotiations will not be easy. The London team coach Andre Villas-Boas has insisted that Bale will certainly "continue" at White Hart Lane. And the chairman, Daniel Levy, does not want to lose their franchise player and is asking for an astronomical figure.
In fact, Tottenham has increased their offer to the player, which would pay him between 7.5 and 8 million to ensure he'll continue with them. This season, the Welshman has scored 31 goals and has established himself as a striker after starting his career at left back.