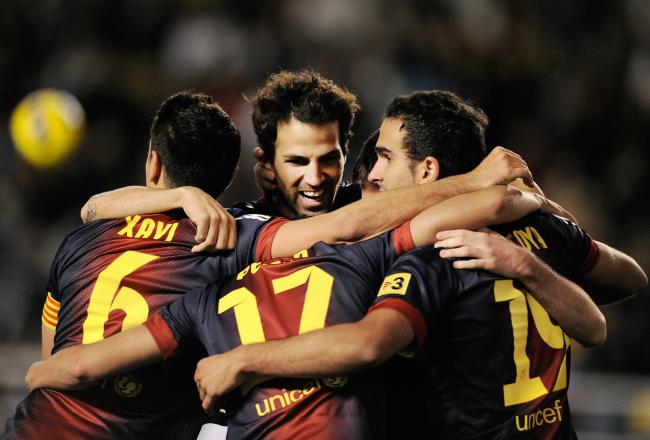 Barcelona finally managed to shrug themselves away from the chasing Atletico Madrid and go three points clear at the top of La Liga after winning 3-1 over recently promoted side Celta Vigo.
Tito Vilanova's formidable side's victory means it's now nine wins out of 10 for the league leaders, who have started the 2012/13 at a furious pace and refuse to let up.
Barcelona took an early lead when Adriano slotted home after 21 minutes from a cross from Pedro.
But Celta Vigo were not disheartened by going a goal down and replied straight away with a goal of their own.
Fernandez Augusto fired a shot at Victor Valdes, who could only hopelessly parry the effort into the path of Mario Bermejo who comfortably sent the ball into the back of the net.
Barcelona aren't a team to be phased by anybody and this was immediately evident as they scored again shortly after the equaliser.
The goal was provided by the the ever-exquisite Andres Iniesta who set up the equally as reliable David Villa.
The La Liga front-runners added a third goal to make the game safe just after an hour into the match, and this time Villa provided the assist by playing a tidy ball through to Jordi Alba who couldn't miss from close range.
Atletico Madrid lost ground at the summit of La Liga as they suffered their first defeat of the season, falling victim away to Valencia who triumphed 2-0.
The home side have made an unpredictable start to the campaign so it was no real surprise to see them take the lead after 20 minutes, and the goal came via a beautifully hit volley from Roberto Soldado.
Valencia's captain, Ricardo Costa, was sent off with the game almost at it's end, but in the dying seconds of stoppage time they managed to grab another goal to ensure they would defeat the usually solid Atletico.
Nelson Valdez took the ball around the 'keeper before calmly finishing to send the visitors home empty handed.